When using Studio for InDesign and InCopy, the Studio panel is your main link to the files that are stored in Studio Server and will therefore be the panel that you will use most often. Through this panel, you can search for files that are stored in Studio Server and subsequently manage them in many ways: open layouts or articles, places files on the layout, route files to other users, and much more.
This article describes the following topics: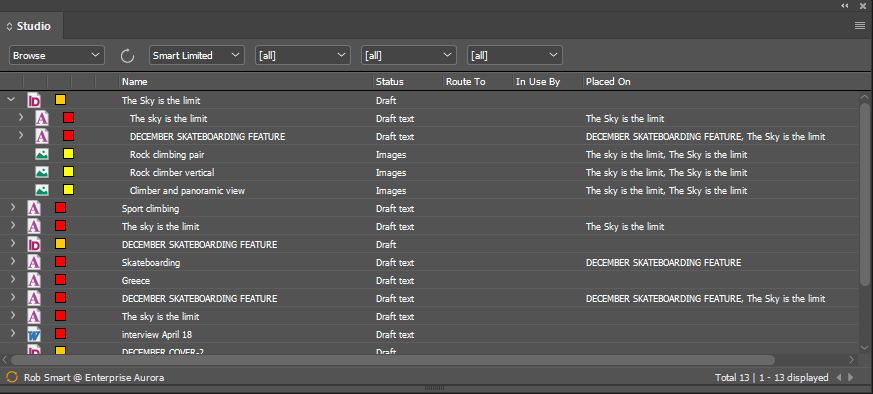 Figure: The Studio panel.
Accessing the panel
Choose View > Studio > Studio.
Tasks that can be performed
You use the Studio panel to:
Search for files by using the tools in the Search pane
Open, place and/or manage files from the Document pane
Preview files in the Preview pane
Select a placed file on the layout from the panel
Create new Studio panels or remove them
Change the panel settings from the panel menu
Icons and other notification changes
Files and file actions can be recognized by various icons and formatting changes shown in the panel, as explained in the following sections.
Customizing the panel
You can control the way information is displayed in the panel in various ways.
Updating the panel
The content of the panel can be updated manually or automatically:
Placed files
Files can be placed more than once on a layout. To keep track of this, display the 'Placed On' column. If a file is placed on one or more layouts, the name of each layout is displayed in this column. Note though that when a file is placed more than 50 times, only the text 'Multiple objects' is shown.