Sometimes you mainly work with layouts while at other times your focus might be more on images or articles. One way of working is to filter the Studio panel to only show the types of files that you are working on: only layouts, only articles, only images, and so on. However, having to constantly change the filter for the same Studio panel can be tedious.
In another scenario you might work on files from one Brand at one time, while working on files from another Brand at another time.
The solution is to create separate Studio panels and set them each to the content that you want to have access to.
Creating a new Studio panel
Step 1. From the Studio panel menu, choose New Panel....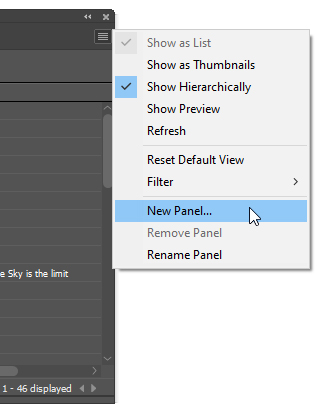 The New Studio Panel dialog box appears.
Step 2. Enter a name and click OK.
The new Studio panel appears.
Step 3. Change the filter settings to your liking.
Renaming a Studio panel
Step 1. For the Studio panel that needs to be renamed, choose Rename panel from the panel's menu.
The Rename Studio panel dialog box appears.
Step 2. Type a descriptive name in the Name box.
Step 3. Click OK.
The panel is renamed.
Accessing closed Studio panels
Closed panels can be re-opened again by accessing them from one of the following locations:
The Window > Studio menu
The Studio panel menu
Removing a created Studio panel
When a created Studio panel is not needed any more, it can be removed by choosing Remove panel from the menu of the Studio panel that needs to be removed.