Caution: Deleting a Brand is not reversible. Once the Brand is deleted, it cannot be restored.
Step 1. Make sure that no files are in the system which are still assigned to the Brand. If so, move them to the Trash Can and permanently delete them from there.
Tip: Use the Trash Can feature in Studio for this task.
Step 2. Access the Brand Maintenance page for the Brand that you want to delete.
Show me how
Step 1a. In the Maintenance menu or on the Home page, click Brands. The Brands page appears.
Step 1b. Click the name of the Brand that you want to delete. The Brand Maintenance page appears.
Step 3. Click the Delete button.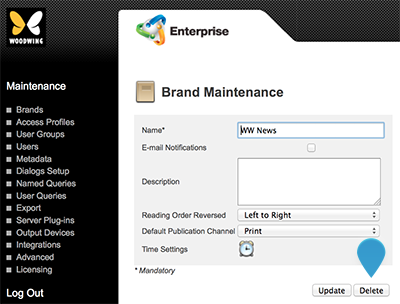 Figure: The Delete button on the Brand Maintenance page.
A message appears asking to confirm the action.
Step 4. Click OK to delete the Brand.