In the Enterprise structure, a Brand represents the publication such as the Times, National Geographic, Yamaha, and so on. Multiple Brands can be set up within Enterprise Server.
Each Brand is further divided into Categories (sport, news, fashion), Workflow Statuses (draft, review, publish), Authorizations (for determining which users can access the Brand), Routing Rules (for determining the workflow that files follow), Issues (the actual publication such as today's newspaper or this month's magazine), and optionally Editions (for print issues in which specific parts are for specific regions only).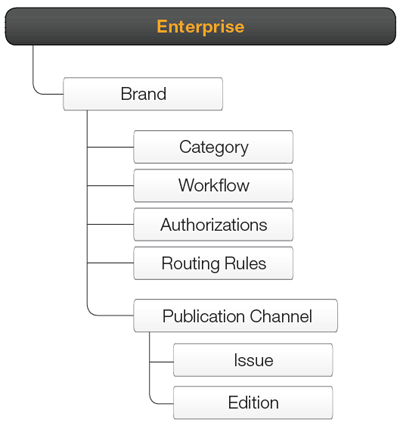 Figure: The typical structure of a Brand, consisting of at least one Publication Channel — which itself is made up of one of more Issues and (optional) multiple Editions — together with one or more Categories, Workflow statuses for each used file type, user and admin authorizations, and (optionally) routing rules for files.
For more information, see The Enterprise concept.
This article will walk you through the process of setting up a fully working Brand for everyday use in a standard workflow environment. It is advised that these steps are followed in sequence:
Note: The steps show an Enterprise Server in which no new Brands have been created yet.
Step 1. Creating a Brand
Step 2. Creating a Publication Channel
Step 3. Creating Categories
Step 4. Creating Workflow Statuses
Step 5. Further setting up deadlines
Step 6. Assigning user authorizations
Step 7. Assigning admin authorizations
Step 8. Creating Routing Rules