The License Status page in Studio Server is used for managing licenses for Studio Server or any client application that needs to interact with Studio Server (such as Studio, Studio for InDesign and InCopy, and Smart Mover), mainly by activating these licenses.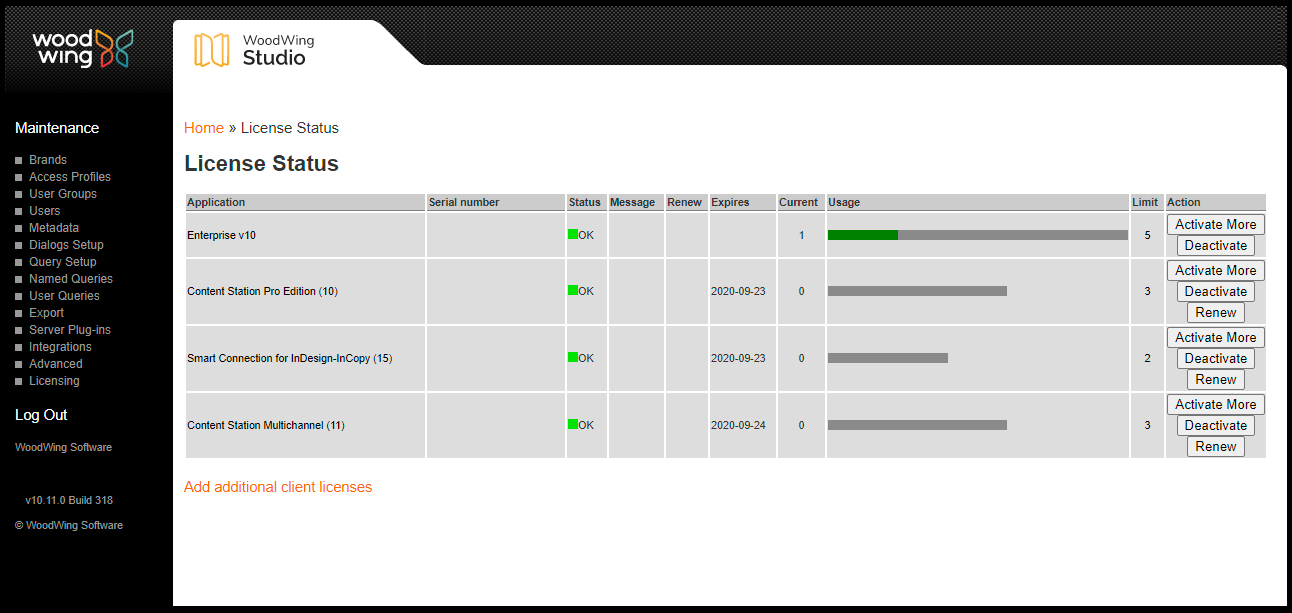 The following columns are displayed:
Application. The application for which the license is installed.
Note: The number that follows the product name indicates the version number of that product. For example: 'Smart Connection for InDesign-InCopy (15)´ refers to Smart Connection version 15.x.
Serial number. The serial number that was used for activating the license.
Status. The status of the license:
OK
Expires [within x days]
Expired
The current license needs to be renewed
Usage limit reached
Message. A more detailed description of the status, for instance containing error codes.
Renew. If the license is a time-limited license (including Subscription), the license should be renewed before the specified date. If not, the license will expire.
Expires. Date when the license will expire.
Current. Number of licenses in use.
Usage. Graphical display of licenses in use versus available seats.
Limit. Maximum number of licenses within license.
Action. Actions that can be performed on each license.
Activate More: for activating additional server or client licenses.
Deactivate: for deactivating licenses.
Remove: for removing the license (only appears once the license has expired).
Accessing the License Status page
In Studio Server, choose Licensing in the Maintenance menu on the left side of the screen or on the Home page.