When saving a file in a particular format to Studio Server, a version of that file is saved. When needed, this version can be restored to make it the current version.
This article describes how to view and restore file versions using Studio and provides background information about the concept of file versions in Studio Server.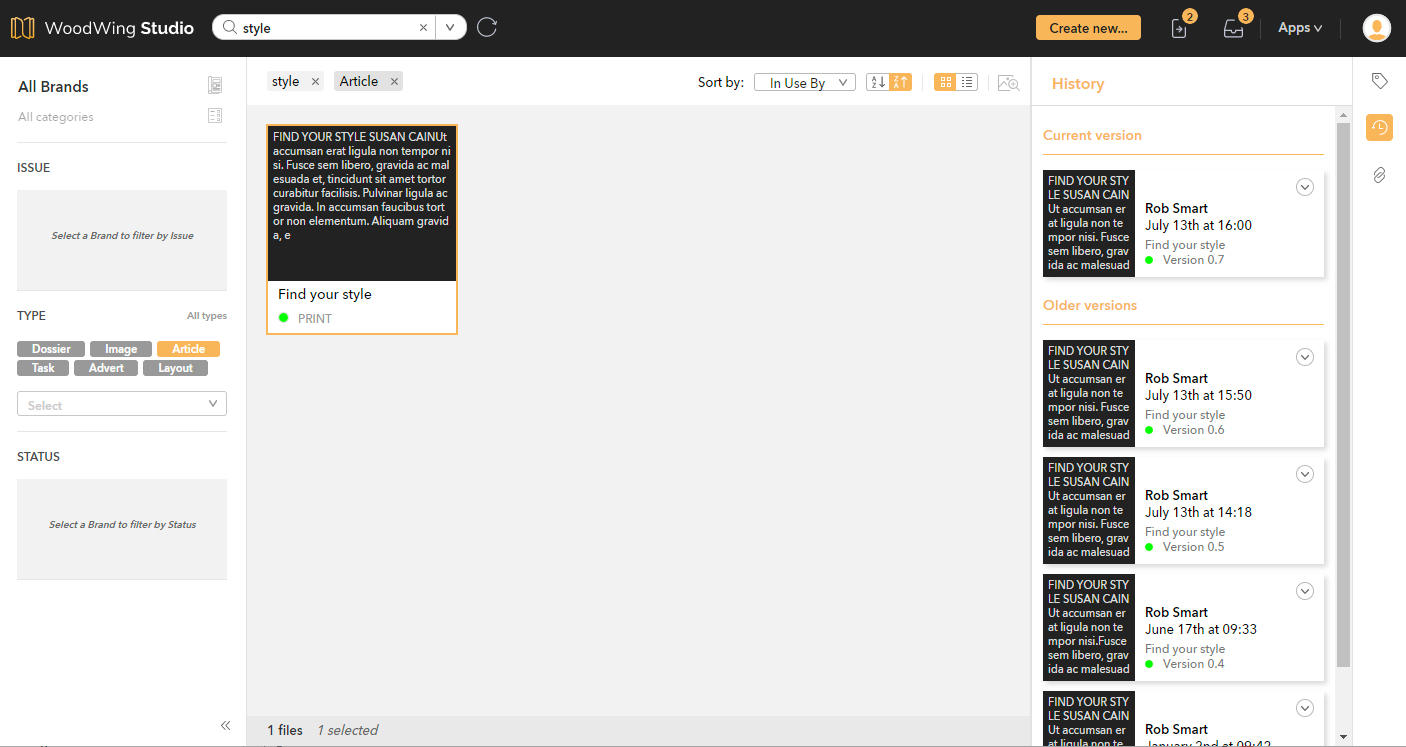 Figure: Viewing versions of a file in Studio.
Viewing and restoring versions
Viewing and restoring file versions in Studio is done through the History panel of the Search results page (see image above) or the History panel in the Digital editor.
After selecting a file in the Search results page or when working on an article in the Digital editor, the History panel shows the current versions and all previous versions of that file (if any, and up to a defined maximum, see below).
The menu of each version contains the following options:
Preview (available in Search results only)
Download original
Restore (not available for the current file version) Using this option restores the version as the current version.
Comparing the content
An article typically goes through many changes made by multiple people. Verifying which changes were made can be practical (and even important), for example as part of an audit trail.
For more information about comparing different versions of an article, see:
File types for which versions are saved
A version of a file is saved for the following file types:
InDesign layouts
InDesign layout templates
Layout Modules
Layout Module templates
InDesign libraries
Digital articles
Digital article templates
Print articles
Print article templates
InCopy articles
InCopy article templates
Text files (plain and HTML)
Images
Videos
Audio files
Note: Saving a version of a file can be done by any user of Studio Server, including users of InDesign and InCopy; it is not restricted to users of Studio.
When is a version stored?
A version of a file is stored when one of the following actions take place:
Check-in
Save Version
Changing the Workflow Status (off by default, only when when enabled)
What is not restored?
When a file is restored, custom metadata properties are not restored.
Number of versions available
By default, a specific number of versions are stored per file type.
File type

Number of versions
saved by default

Layout Module
5
Layout Module template
5
Article
10
Article template
10
Library
5
Audio objects
5
Video objects
5
Image objects
5
When the maximum number of versions for a file type is reached, the oldest version is removed to make place for the newest version.
Example: 10 versions of an article are saved: versions 1 to 10. The next time an article is saved, the oldest version (version 1) is removed to make room for the newly saved version.
Note for system administrators: These values can be changed by configuring Studio Server.
About version numbers
All version numbers are presented in a "major.minor" notation.
Example: Version '1.2' means major version '1' and minor version '2'.
Each time a file is saved, either the major version number or the minor version number is increased (depending on how the system is configured).