When publishing an issue to Adobe DPS in PDF format, controlling the file size is important because it directly affects the time it takes for users to download it.
The file size of the PDF is controlled through the Quality Preview setting of an output device, which affects the dpi of the exported page previews. This setting can be found in Enterprise Server.
Step 1. In Enterprise Server, access the Output Devices Maintenance page.
Show me how
Choose Output Devices in the Maintenance menu on the left side of the screen or on the Home page.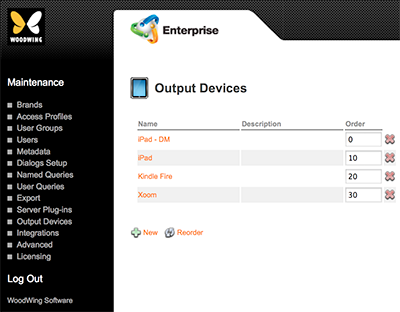 Step 2. Click on one of the devices in the list.
The Maintenance page for that device appears.
Step 3. In the Preview Quality field, enter one of the following values:
1 - JPEG low quality
2 - JPEG good quality
3 - JPEG Excellent quality
4 - JPEG great quality
Note: This feature replaces the use of the PagePreviewQuality Server feature, as used in Digital Publishing versions 1.3 to 1.6. (Note that this feature is still used though in a Print environment.)
Example: On the iPad, the Preview Quality settings result in the following dpi values (based on a 1024x768px image):
iPad 2
Value 1 = 72 dpi
Value 2 = 72 dpi
Value 3 = 72 dpi
Value 4 = 96 dpi
iPad 3
Value 1 = 144 dpi
Value 2 = 144 dpi
Value 3 = 144 dpi
Value 4 = 192 dpi
Step 4. Click Update.