When Studio Server is installed for the first time, a default set of features are enabled and an even larger set of features are disabled.
Because each implementation of Studio Server is different and requires a different set of features, it is important to configure Studio Server in such a way that it matches the needs and requirements of the used workflow.
Where can I find which options can be set?
Use the sources listed below for information about configuring Studio Server.
Online Help
Many articles about configuring Studio Server can be found in the configuration sections of the Studio Server page on Help Center.
configserver.php file
The SERVERFEATURES section of the configserver.php file contains many comments with examples of additional features that can be enabled.
The location of this file is:
<Studio Server path>/config
Info: Accessing this location requires direct server access. Depending upon how your system is hosted and the level of access you have to that system, coordination may be required with your Partner or WoodWing Support team. For a full overview of the steps that need to be done by WoodWing and how to request them, see WoodWing Cloud - Change management.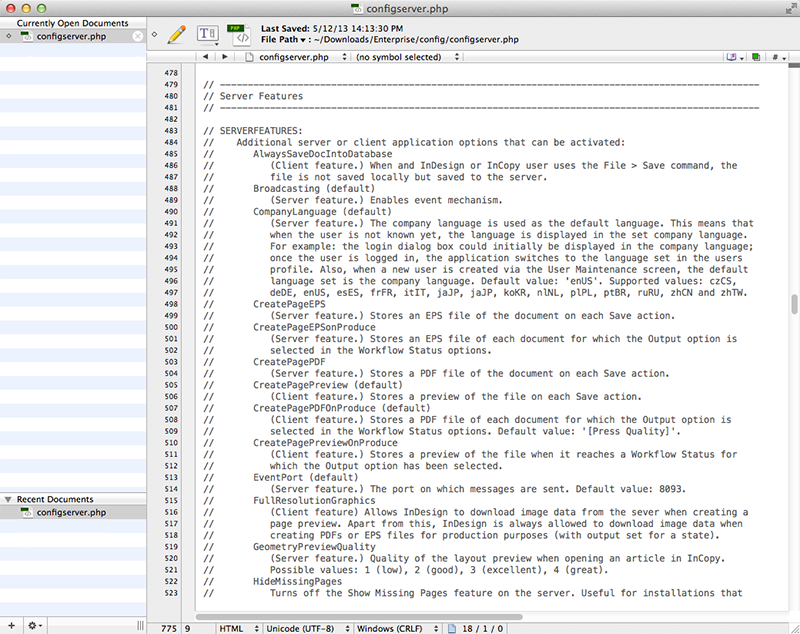 Figure: The configserver.php file contains many additional features that can be enabled.
Integrations and samples
Integrations and various samples can be found on the Help Center. Visit it regularly for the latest releases and updates.
Using a central file
To ease the process of managing and upgrading Studio Server installations, Studio Server can be configured by using just a single configuration file.
This is done by defining any setting that you want to change from any configuration file to this file. These settings are then used to overrule their corresponding values in the default configuration files.
For more information, see Using a central file to configure Studio Server.
Configuration options that should not be changed
Important: The following system-wide configuration options should not be changed while the system is in production.
File Storage
The following options in the configserver.php file have impact on the way objects are stored and can therefore not be changed afterward:
PERSONAL_STATE

<![CDATA[ ]]>

MAX_<object type>_VERSION

<![CDATA[ ]]>

ATTACHMODULO

<![CDATA[ ]]>

ATTACHSTORAGE

<![CDATA[ ]]>

DBTYPE

<![CDATA[ ]]>
Expert-only options
The following option in the configserver.php file is for experts only and should be changed at your own risk. It is highly recommended to run a test cycle after changes have been made:
EXTENSIONMAP

<![CDATA[ ]]>
Internal usage only options
The following options in the configserver.php file are for internal usage only and so should NEVER be changed:
XMLTYPE

<![CDATA[ ]]>

DBPREFIX

<![CDATA[ ]]>

display_errors

<![CDATA[ ]]>

log-errors

<![CDATA[ ]]>

error_log

<![CDATA[ ]]>

include_path

<![CDATA[ ]]>
Open Source Code
The application server is written in PHP and SQL. Part of the code is encrypted and therefore cannot be changed. Other parts of the code — such as the bizclasses — are not encrypted. Since this is open source, you are technically free to make changes. However, this is NOT recommended because of the following reasons:
We cannot offer support.
Internal interfaces, objects, and the database model are subject to change and so you might need to rewrite your customizations for the next coming version.
The source files of the application server can be found in the following locations:
Windows: c:\inetpub\wwwroot\StudioServer\server
Linux: /var/www/html/StudioServer/server