Info: This feature requires Enterprise Server 10.0.3 or higher or Enterprise Server 10.1.1 or higher.
When maintenance tasks need to be performed on Enterprise Server such as upgrading the software or updating the configuration settings, it is important that users do not have access to the system. At the same time, processes such as InDesign Server Jobs or Smart Mover Tasks should still be allowed.
For this purpose, Enterprise Server can be placed in 'Maintenance Mode'. It currently has the following features:
It prevents users from logging in to the system
The date and time when Maintenance Mode should be enabled can be configured
A custom message to show the user can be added
The Maintenance Mode is provided through a Enterprise Server plug-in named Maintenance Mode which is disabled by default. Once enabled, its settings can be accessed through Integrations > Maintenance Mode.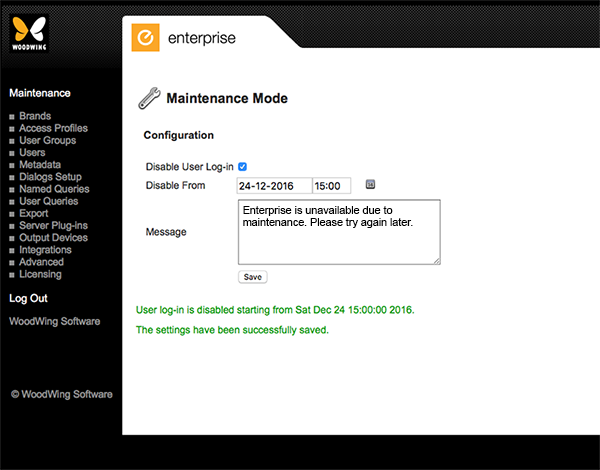 Tip: When not planning on scheduling maintenance it is best to leave the Maintenance Mode Server plug-in disabled to prevent it from constantly checking if it needs to go into Maintenance Mode or not.