Publishing to Twixl is one of the ways in which a Digital article can be published from Studio.
This article explains how this is done.
Note: Publishing to Twixl requires that the system is set up correctly. It is assumed here that this is done.
Step 1. Create a Digital article as described in Working with Digital articles in Studio and add the required content.
Tip: A dedicated Component Set containing a variety of optimizations in digital publishing is available through WoodWing Digital Services. This set is created, maintained and sold by WoodWing. To obtain this set, contact your WoodWing sales representative. They can help put you in contact with the WoodWing Digital Publishing team.
Step 2. Make sure that the correct style is applied:
In the toolbar on the right, click Look and Feel to open the Look and Feel options.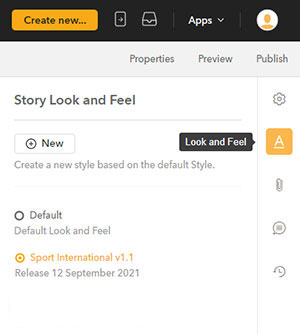 Choose a style from the list of available styles.
The changes are applied immediately.
Step 3. Access the properties of the article and make sure that the metadata properties for Twixl are set. These can include the following:
| Field display name | Twixl metadata field / remark |
| --- | --- |
| Headline | Title |
| Byline | Author |
| Teaser | Tagline |
| On Sale Date | Published On |
| Page Number | Rank |
| Twixl Collection ID | Collection (When empty, the content item will be unassigned.) |
| Pushed from Studio | This metadata field helps the Twixl automation know which Rule Set to use and is typically not editable. |
Step 4. Publish the article by doing one of the following:
Select a Digital article or a group of files containing Digital articles, right-click any of the files and choose Publish from the context menu.
Open an article in the Digital editor and click Publish in the top right corner.
In the dialog that appears, select the channels to which the articles should be published and click Publish.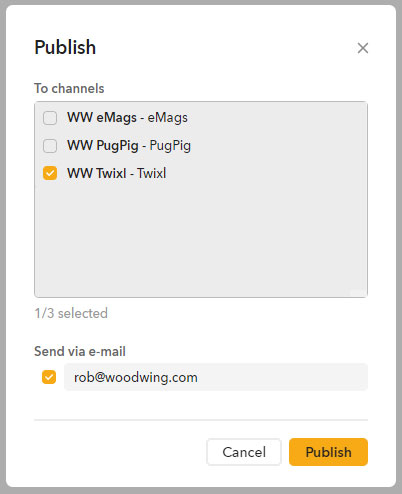 Notes:
To publish articles, you need to have the 'Publish' access right set.
Up to 300 articles can be published simultaneously to 5 different Publications channels.
When multiple files are selected, any files that are not Digital articles are automatically ignored.
The Publish command in the context menu is disabled when multiple files of more than one Brand are selected.
The last made selection in the Publish dialog is remembered and set the next time the dialog is opened.
The 'Send via e-mail' option can be ignored, it is used for publishing to channels other than Pugpig.
After publishing, a notification is shown indicating if the publishing process was successful. This only applies to the process in Studio; the success of the process in the Publication channel itself cannot be verified by Studio.