This is step 3 of setting up a fully working Brand in Studio Server for everyday use in a standard workflow environment. (See a list of all steps)
A Category is used to define a subdivision within a Brand. A newspaper could for instance have different categories dealing with finance, sports, science, and so on. These are the high-level themes addressed by the Brand.
Note: A Brand/Issue combination needs to have at least one Category set up. If no Category is available, reporting will give unexpected results and the deadline functionality will not work properly.
Step 1. Access the Brand Maintenance page for the Brand in which you want to add Categories by doing the following:
Step 1a. In the Maintenance menu or on the Home page, click Brands. The Brands page appears.
Step 1b. Click the name of the Brand. The Brand Maintenance page appears.
Step 2. Locate the Category options.

Since we are working with a newly created Brand/Issue, no Categories exist yet.
Step 3. Click Add.
The Category Maintenance page appears.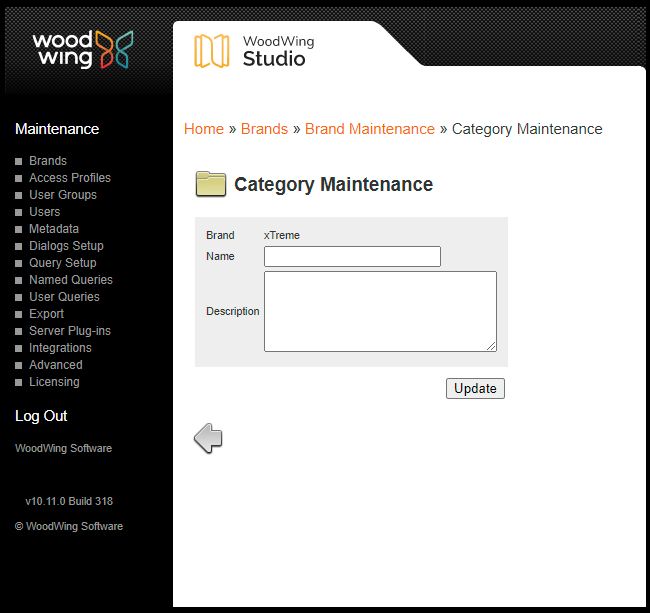 Step 4. Fill out the details.
Name. Name of the Category. This name is shown to users to indicate to which Category a file is or should be part.

Description. Description of the Category. This is for internal use in Studio Server only. Use it to describe the purpose of the Category.
Step 5. Click Update.
Depending on where you started, either the Brand Maintenance page appears or the Issue Maintenance page appears.
Step 6. Continue adding Categories as needed.
Next step
Step 4. Creating Workflow Statuses.