A Brand is a representation of a publication: it defines a newspaper, magazine, catalog, and so on.
Example: A Brand is named 'My Newspaper', 'My Magazine', and so on.
A Brand contains one or more published issues, such as each a daily newspaper, each monthly magazine, each yearly report, and so on.
For each Brand in Studio Server, the following settings can be defined:
Name. The name of the Brand.
E-mail Notifications. Select when users should be notified by e-mail when a file of this Brand has been routed to them or the groups they are part of.
Description. A short description of the Brand.
Reading Order Reversed. Define how pages are displayed in the Publication Overview of Studio: left-to-right or right-to-left (reversed).
Auto Purge. (Only available when the Studio Server Job named AutoPurgeTrashCan is made active.) Enter the number of days when a file should be permanently removed after it has been added to the Trash Can. Enter 0 (zero) to disable the feature for the Brand.
Default Publication Channel. Choose the Publication Channel that should act as the default print channel used by InDesign/InCopy.
Activate Relative Deadlines. Select when deadlines should be assigned to Categories and Workflow Statuses.
Time Settings. (This option only appears when 'Activate Relative Deadlines' is selected.) Opens the Relative Deadlines page.
To modify these settings, follow these steps:
Step 1. Access the Brands Maintenance page by clicking Brands in the Maintenance menu or on the Home page.
A page showing all created Brands appears.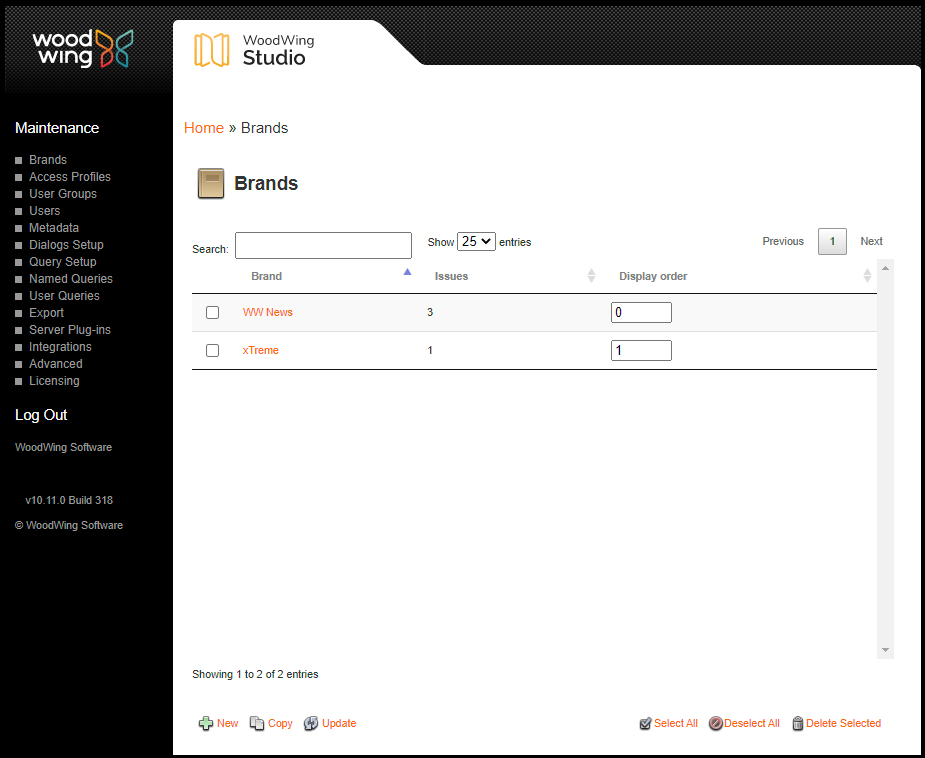 Figure: The Brands page.
Step 1b. Do one of the following:
When creating a new Brand: click New.
When updating an existing Brand: click the name of the Brand.
The Brand Maintenance page appears.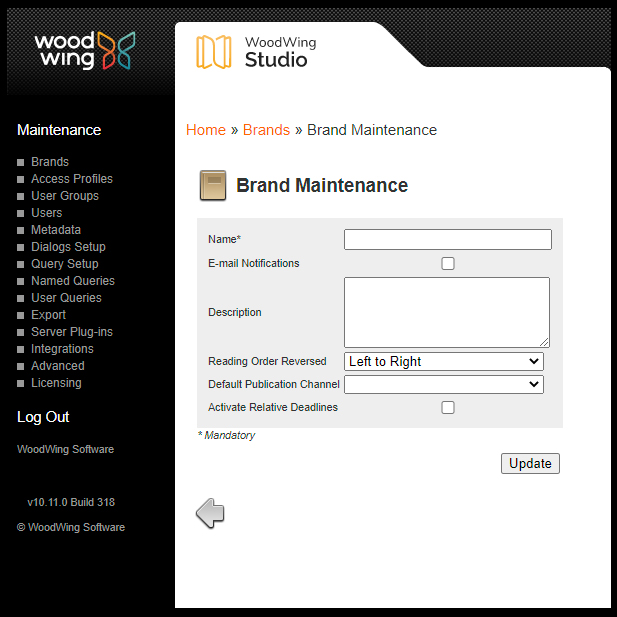 Figure: The Brand Maintenance page.
Step 2. Enter the details.
Step 3. Click Create or Update.