Once Xtendis is fully set up and configured for your organization, system administrators can use the Functional management section of the application to perform various basic tasks.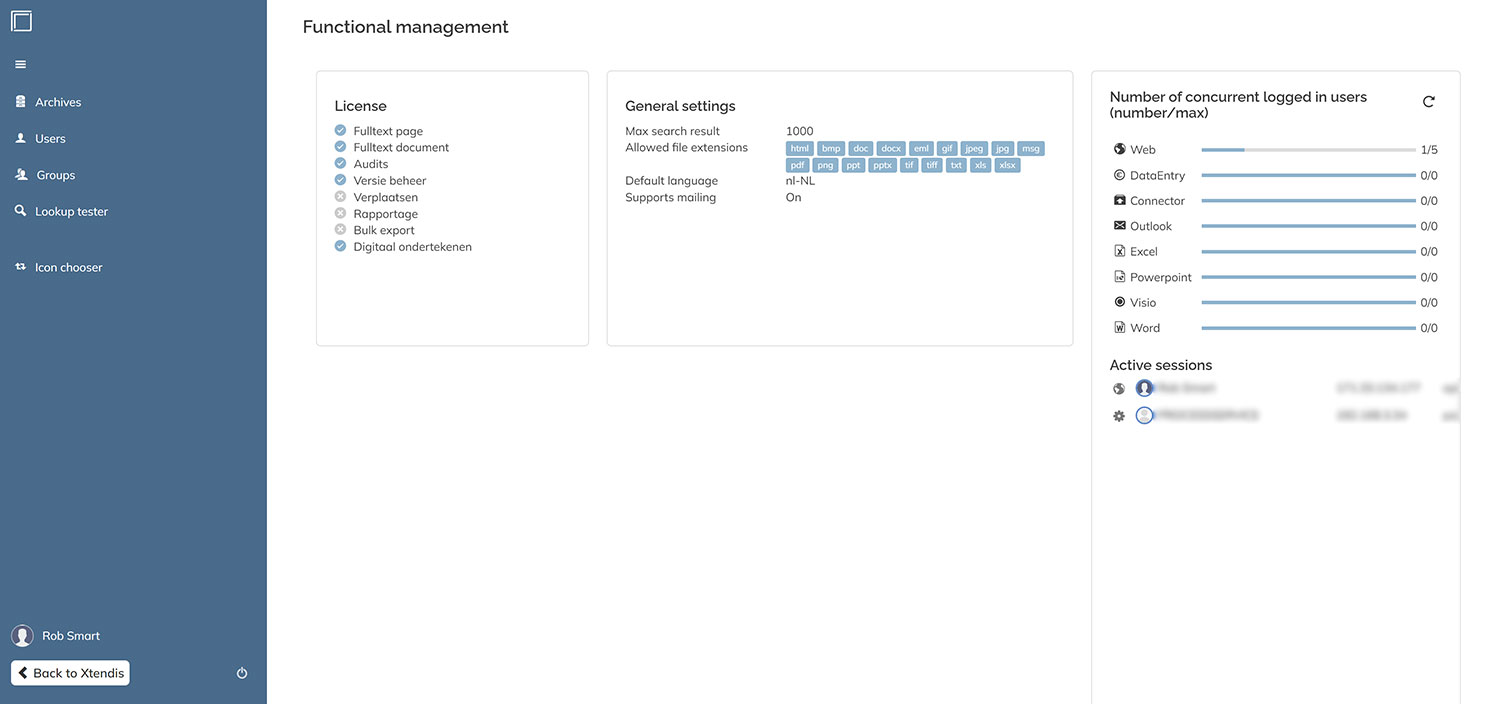 The Functional management section can be used for the following:
Monitoring usage
Managing users and user groups
Managing access rights
Managing user replacements
Creating reports
Creating queries for third-party integrations
Copying icons
Accessing the Functional management section
The Functional management section can be accessed through Xtendis in a Web browser.
Step 1. Log in to Xtendis.
Step 2. Click the Settings icon (the cog wheel) on the Dashboard or on the Dashboard as a toolbar and from the menu that appears, choose Functional management.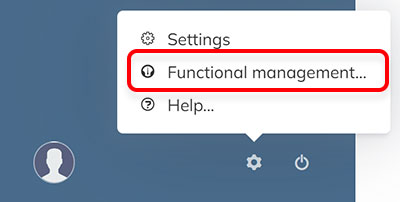 The Dashboard
The Dashboard is shown after accessing the Functional management section. It provides a general overview of the licenses used, some general configuration settings, and the number of logged in users and active sessions.
For a detailed explanation, see Using the Functional management Dashboard in Xtendis 7.
The menu
The menu on the left side of the page gives access to the pages on which the various tasks can be performed.
By default it shows icons and labels, but when accessing a page, the menu is minimized to only show icons. The labels can at any time be shown or hidden by clicking the icon at the top of the menu.

Using the options in the menu, pages can be accessed for performing various tasks. The following table shows the available pages and what they are used for. Follow the links for more information.
Logging out
When done working in Xtendis, it is advised to log out of the system.
Note: When Xtendis is not used for a certain period of time (by default this is 20 minutes), you will be automatically logged out. A notification is first shown to give you the opportunity to cancel this process and to keep being logged in.
To log out of Xtendis, click the Log out icon in the bottom left corner of the screen next to the Avatar.