Since last Wednesday, February 3rd 2021, the About WoodWing dialog in InDesign and InCopy does not function any longer. The menu item File > About WoodWing is still there, but the dialog does not show up any longer. This is very unfortunate, especially in case of seat based activations.
The About WoodWing dialog fails for all versions of InDesign and InCopy, from CC 2017 (v12) to 2021 (v16) and for both Mac and Windows.
The About WoodWing dialog provides information on the current versions of Smart Styles, Smart Connection and/or the Studio plug-ins for InDesign and InCopy. The dialog also gives access to the seat based activation of the products.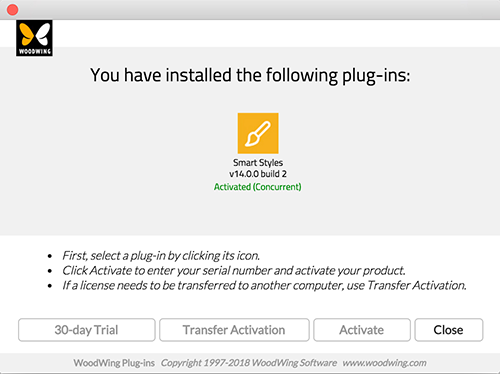 The source of the problem is an installation certificate for the Adobe extension (WoodWingUI ZXP). We are currently working on a fix with an updated certificate.
Our plan is to provide quick patch releases for:
Smart Styles for CC 2018
Smart Styles for CC 2019
Smart Styles for Adobe 2020
Smart Styles for Adobe 2021
Smart Connection CC 2018 version 13.1.3
Smart Connection CC 2019 version 14.3.0
Studio for InDesign and InCopy 2020 version 15.1.2
These quick patches will be released next week, February 15-19.
If a solution is required sooner, please contact WoodWing Support.
Kind regards,
The WoodWing Development team