One of the ways of searching for files in Studio for InDesign and InCopy is to use the Search Mode: a set of search criteria that can be saved for future use.
For more information, see Searching and locating files using Studio for InDesign and InCopy.
The search criteria are specified by using the Search Criteria dialog box. Additional criteria can be added by choosing one of several properties in the Add Criteria list.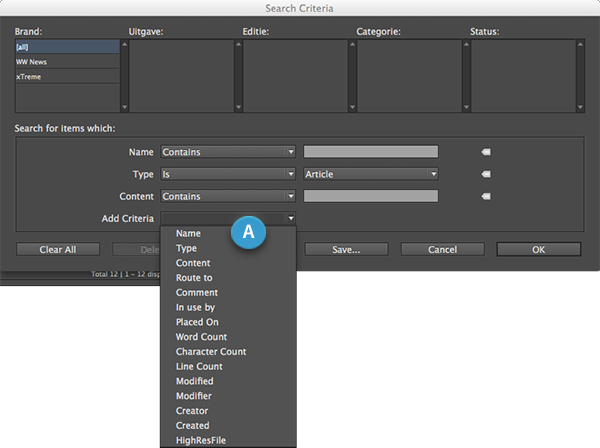 Figure: Properties can be included in the search by choosing them from the Add Criteria list (A).
By default, the Add Criteria list only shows a limited number of properties but additional properties can be added when needed.
Step 1. In Studio Server, access the Dialogs Setup Maintenance page by choosing Dialogs Setup in the Maintenance menu on the left side of the screen or on the Home page.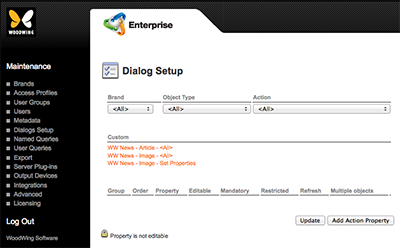 Step 2. From the Action list at the top of the page, choose Query Parameters.
Note: There is no need to make a choice from the Brand and Object Type lists; when making a choice from these lists, they are automatically set to 'All'.
Step 3. At the bottom of the page, click Add Action Property.
Options appear for adding the property.

Step 4. Set the options as needed.
Order. (Optional) Enter a number that specifies the order in which the property should appear in the Properties pane.
Note: The higher the number, the lower the property will appear.
Note: Custom properties are listed first and are preceded by an asterisk character (*).
Step 5. Do one of the following:
To add the property without adding another one, click Update.
To add the property and display a new set of property settings for adding another property, click Add Action Property.
The created action property is displayed in the section above the Add Action Property button.
In the Custom section of the page, a Brand/Object Type/Action group is displayed to indicate that at least one action property has been added to that combination. Clicking the link displays all properties at the bottom of the page that have been configured for that combination.