The low-level debug logging feature is used for storing all SQL queries and Web service details for debugging purposes.
IMPORTANT: With low-level logging turned on, the file size of the log files will keep growing, thereby consuming disk space and reducing performance.
About the structure
Files are written to the logging directory (as defined in configserver.php) in the following structure:
OUTPUTDIRECTORY > day > client IP
'day' directory: this represents the day (in YYYYMMDD format) on which a log operation took place. This bundles all logging operations on a daily basis, thereby making it easy to clean up. For example, you can throw away directories older than one week manually or by your home-brewed batch job.
'client IP' directory: this is created within the 'day' folder whenever logging was done in context of a certain client application. The client works from a certain IP address which is used as the folder name. Logging written for all applications working from that IP are bundled in this directory which makes it easy to for example identify problematic work stations. This directory contains HTML files (or text files) named after the PHP module used as entry point by the client application, or the name of the Web service requested.
Note: Make sure that read and write access is set to the log folder for the following users:
MacOS: "www"
Windows: "IUSR_<servername>"
Linux: "nobody"
Type of files that are logged
The following files can be found in the logging directory tree:
File name: ent_log_errors.htm
Location: This file might appear in a 'client IP' directory.
Description: Indicates that an ERROR has occurred for this client. The full context can be found in any of logged files in the same folder.
File name: phpinfo.htm:
Location: This file always appears in the 'day' folder and in the 'client IP' folder. For performance reasons it is only generated once per day, just before the first server operation gets executed.
Description: Contains valuable information for analysis. When contacting WoodWing Support, please make sure to include this file.
File names: sce_profile_mysql.htm, sce_profile_mssql.htm, or sce_profile_oracle.htm.
Description: Server profile logs containing information about how long operations take and how much memory is used.
Note: Only available with DEBUGLEVELS is defined as INFO or DEBUG, and PROFILELEVEL is set in a range of 1 to 5.
Enabling low-level logging
The low-level logging feature is enabled through the following settings:
Viewing log files
Viewing log files is done as follows:
Manually by accessing the drive on which the files are stored, navigating to the file and opening it manually.
Through Enterprise Server via Advanced > Server Logs.
Note: This requires Enterprise Server 10.1.7 or higher, or all following major versions (10.2, 10.3, and so on).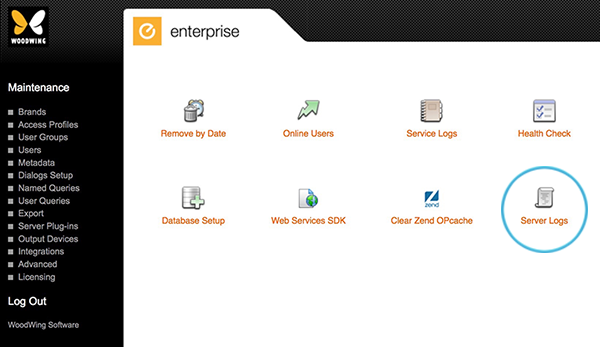 Opening the application will show a list of daily log directories.
Each of these directories links to a list of directories named after the client IP.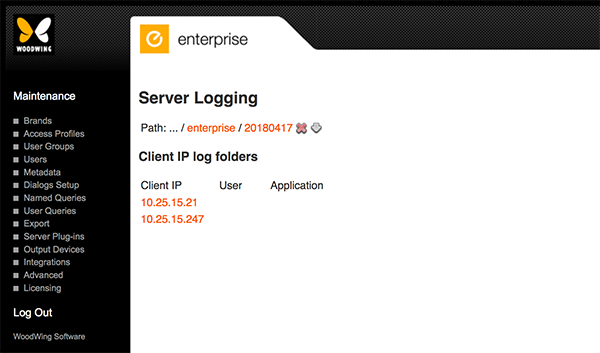 From there, the log files can be accessed.