Once Xtendis is fully set up and configured for your organization, system administrators can review detailed information about the available archives, such as the number of documents and dossiers they contain, the storage and properties used, and much more.
This can be done by using the Archive page of the Functional management section of Xtendis.
This article describes how to use that page.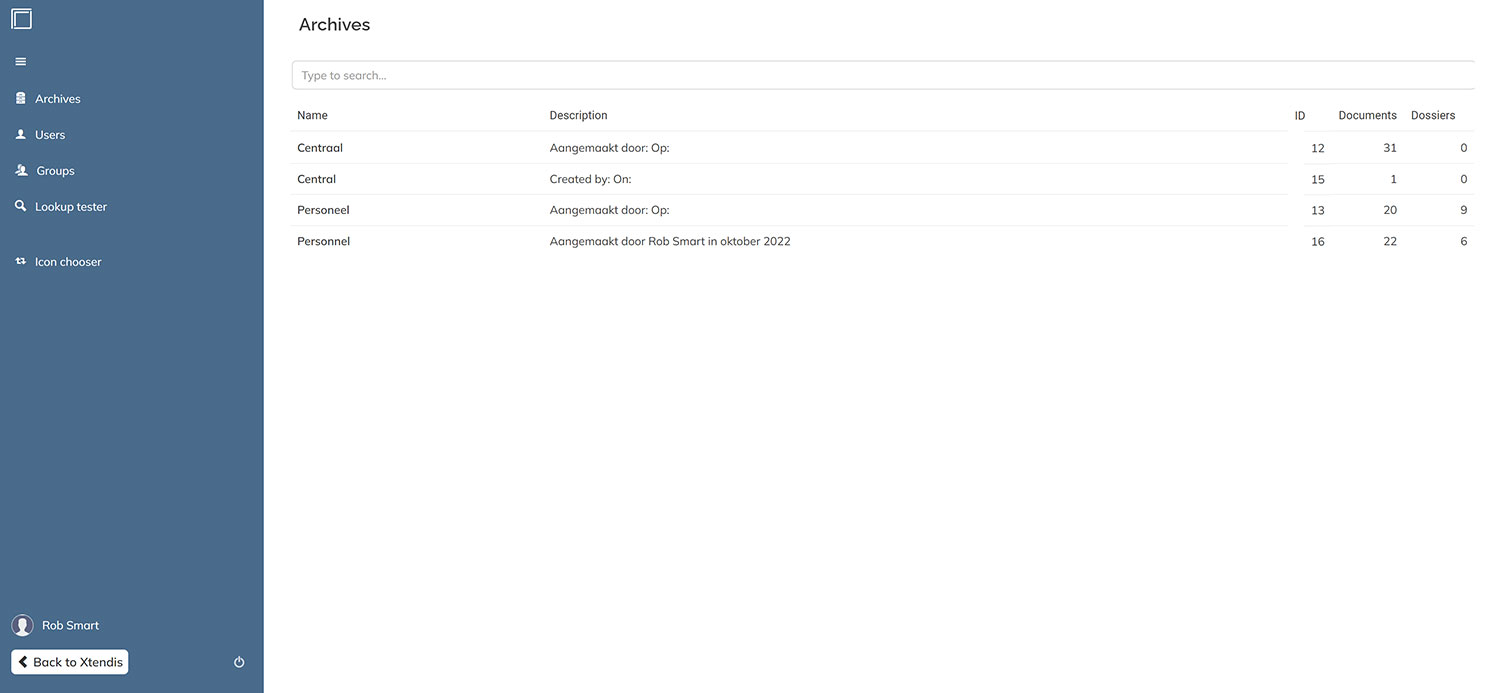 Accessing the page
To access the page, access the Functional management section of Xtendis and in the menu on the left, click Archives.
Archive view
When accessing the Archives page, a main overview of all archives that are available within the organization is shown (see the figure above).
The list is sorted alphabetically.
Filtering the list
Filtering the list can be done by typing (part of) the archive name in the Type to search... field at the top. While typing, the list is automatically filtered.
Overview details
The following table shows the details that are shown in the overview:
Column name
Details
Name

The name of the archive.

The text is a hyperlink which opens a page with more details about that archive (see Archive details below).

When hovering the mouse pointer over the link, a tooltip appears showing the archive ID, the object ID, and the date when a last change was made.

Description
The description that the archive was given.
ID
The ID of the archive.
Documents
The total number of documents in the archive.
Dossiers
The total number of dossiers in the archive.
Archive details
The details of an archive can be viewed when clicking the name of the archive on the Archive view page (see above).
The information that can be viewed is divided over various tabs, as explained in the following table.
Note: Which tabs are available depends on how the archive is set up.
Tab
Details
Overview

Shows a general overview of the archive such as the number of documents, total storage used, enabled options, and more.

Clicking the Open overview... button opens a page with a general overview of the archive settings (see Archive overview below).

Properties

Shows an overview of all the properties used in the archive with their settings.

Business Rules

Shows the Business rules for the archive.

Document Zones

Shows the Document Zones in the archive.

Clicking a zone shows additional information about that zone such as the user groups that have access to this zone.
Archive overview
A detailed overview of the archive can be viewed by clicking the Open overview... button on the Overview tab on the Archive details page (see above).
The Save button in the top-right corner can be used for saving the overview to a file such as a PDF document, or for printing it.