WoodWing Assets is one of the ways of accessing files that are stored in Assets Server through a Web browser.
It provides easy access to content that is stored in Assets Server and because of its wide range of features it is perfect for both general and advanced use.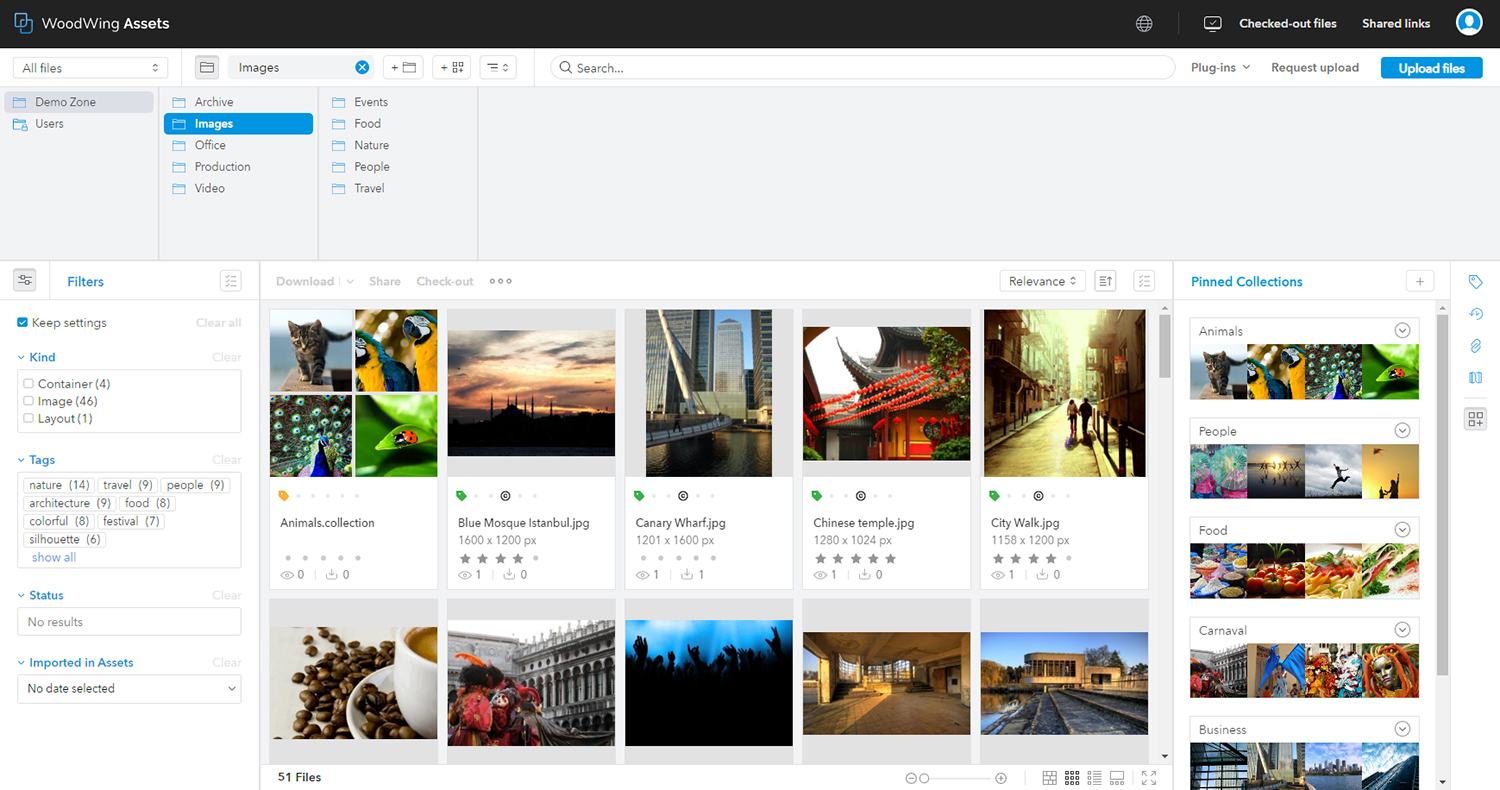 Figure: Accessing content in Assets Server through WoodWing Assets.
Setting up WoodWing Assets
You will use Assets to connect to Assets Server. The environment will have been set up for you, ready for use. No installation or configuration steps are needed on your side.
Note: One exception exist: when you are an external user and are asked to use WoodWing Assets you might want to install Assets Agent to make the process of checking-out files for editing and checking them back in easier.
Access rights
Depending on your role, you will have been given full or limited access to the available features in Assets and the assets stored in Assets Server. You may therefore not see all of the features described here in this article or be able to use them.
Styling
The look and feel of Assets can be changed to match the style of the brand that Assets is used for, for example by matching it with the branding of a company, product or publication.
The following can be adjusted:
The background image of the Sign In page
The logo in the header
The color of the header
The highlight color (used for buttons, selections and various other small page items)
The 'favicon' shown in a Web browser
The 'Feedback' and 'Help' links
Assets may therefore look different than shown here but the described features are the same.
Accessing WoodWing Assets
You access Assets through a Web link by using a supported Web browser. Enter the link that is provided to you and when prompted, log in using your credentials.
The link will look as follows:
<Assets Server URL>/app
Example: http://www.assets-server.com/app
Changing the font size
To slightly increase or decrease the default font size of the text in Assets, use the options in the Avatar menu.
Figure: The options in the Avatar menu for changing the font size of the text in Assets.
Features
WoodWing Assets can be used to perform many tasks, including:
Using features added by plug-ins
The default functionality of Assets can be extended by using plug-ins. Each plug-in will add its own functionality and it depends on the type of plug-in and how it is set up how it can be used in Assets.
Some plug-ins will add automated functionality such as archiving files when they reach a particular status while other add functionality that can be manually triggered by clicking a button or a context menu command, or by using a panel.
Figure: In this example, geo-tagged assets can be viewed via Google Maps.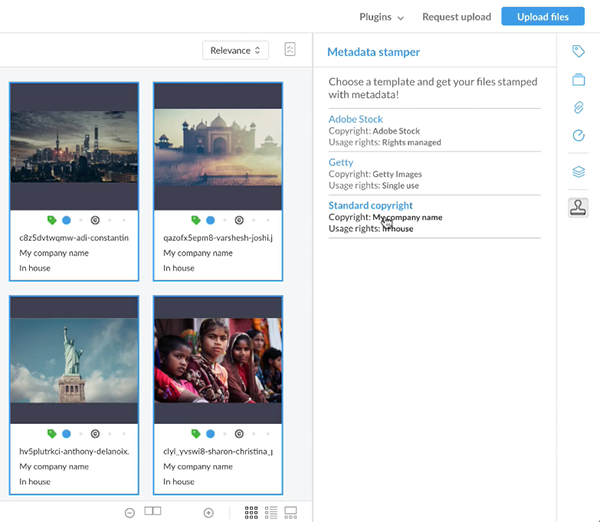 Figure: In this example, a panel is added containing options to quickly apply specific copyright metadata to selected assets.