Once Smart Connection has been installed and you log in to Enterprise for the first time, the Smart Connection panel is shown in its default state: it shows the files that are in your Inbox and the display mode is set to List View, showing a limited number of columns.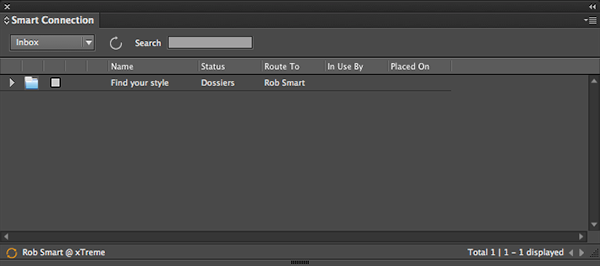 Figure: The Smart Connection panel in its default state.
While working with the panel, you might change it to show another mode such as Browse mode, show the files as thumbnails, add or remove columns and so on.
Each time you log out of Enterprise (by choosing Smart Connection > Log Out or simply by closing InDesign or InCopy), the last used state of the panel is stored on the Server so that when you next log in to Enterprise (even from another system), the Smart Connection panel shows your last used settings.
Restoring the default state
In case you want to set the panel back to its default state, do one of the following:
From the panel menu, choose Reset Default View.
While logging in to Enterprise, press the following keys directly after clicking OK in the Log In dialog box:
macOS: Shift+Command+Option
Windows: Shift+Ctrl+Alt
Note: When using this method, all other panels that are part of Smart Connection are closed.