The Dynamic Update feature of the Smart Connection panel makes sure that the panel is updated as soon as a change occurs such as a new file being added or removed or when the properties of a file are changed.
These changes are also reflected in the way the file is shown in the Smart Connection panel:
New files are added in bold
Files for which the properties have changed are displayed in italic
Files that are moved to the Trash Can are grayed-out.
Note: All files are displayed normally as soon as the panel is updated.
Dynamic Update is active when:
The Document pane of the Smart Connection panel displays files that are based on a search mode that uses one of the following operators:
Name
Type
Route To
Locked By
The Document pane displays files based on a search mode that uses one of the following operators but where its corresponding value box is left blank:
Content
Comment
Placed On
Word Count
Line Count
Modified
Modifier
Creator
Created
HighResFile
Dynamic Update is not active when:
The Document pane displays files based on a search mode that uses one of the following operators and a value is entered:
Content
Comment
Placed On
Word Count
Line Count
Modified
Modifier
Creator
Created
HighResFile
Any custom properties
The Document pane displays files based on one of the following search modes:
Templates
Libraries
Offline
Dynamic Update icon
Whether or not Dynamic Update is active is indicated by an icon in the lower left corner of the Smart Connection panel: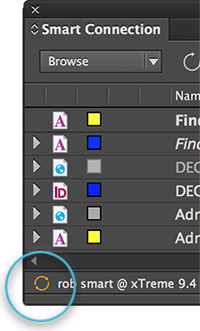 Orange: Dynamic Update is active
Gray: Dynamic Update is not active