Users of Smart Connection for InDesign/InCopy and of Content Station can create a Custom Search with which they can store a set of search criteria for performing repetitive searches.
It works by defining the search criteria once, saving them as a Custom Search and then accessing that Custom Search whenever it is needed. Defining the search criteria is done by choosing them from a list of options.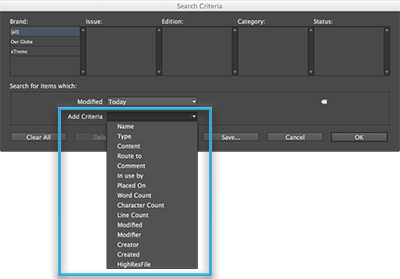 Figure: Criteria that can be added to a Custom Search are available in the Add Criteria list of the Custom Search dialog box, as seen here in Smart Connection.
By default, the following criteria are listed:
| Smart Connection | Content Station |
| --- | --- |
| Name | Name |
| Type | Type |
| Content | Content |
| Route to |   |
| Comment |   |
| In use by |   |
| Placed On |   |
| Word Count |   |
| Character Count |   |
| Line Count |   |
| Modified |   |
| Modifier |   |
| Creator |   |
| Created |   |
| HighResFile |   |
Changing the list
To change this list, do the following:
Step 1. In Enterprise Server, access the Dialogs Setup Maintenance page.
Show me how
In Enterprise Server, choose Dialogs Setup in the Maintenance menu on the left side of the screen or on the Home page.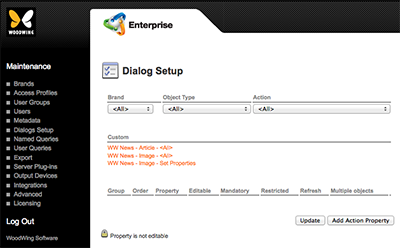 Figure: The Dialog Setup page.
Step 2. Leave the option <All> selected for the lists 'Brand' and 'Object Type'.
Step 3. From the Action list, choose Query Parameters.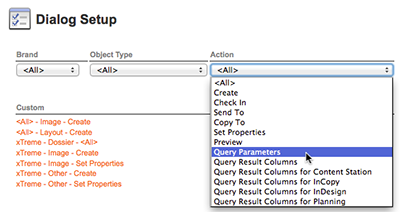 The title of the page changes to 'Query Setup'.
Step 4. Click Add Action Property. Fields for adding a property appear.

Figure: The fields for adding a property.
Step 5. (Optional) In the Order box, define the order in which the property should appear by entering a numeric value.
Note: The higher the number, the lower the property will be displayed.
Step 6. From the Property list, choose the property that you want to add to the dialog box.
Note: The properties that are added here will fully replace the default list, meaning that if you only add one property, the Add Criteria list in Smart Connection and Content Station will only contain that one property.
Step 7. Do one of the following:
To add the property without adding another one, click Update.
To add the property and display a new set of property settings for adding another action property, click Add Action Property.
Tip: To show the same list of criteria in Content Station as the default list in Smart Connection, recreate that list by manually adding these default properties to the Query Parameters action.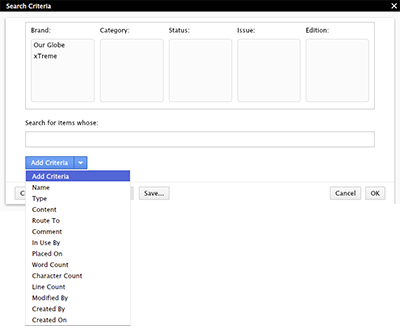 Figure: A customized Add Criteria list in Content Station.
Restoring the list
To restore the list to the default values, remove all properties that were added to Query Parameters.