When editing layout in InDesign is completed, the changes that were made need to be saved and the layout itself needs to be closed.
These actions can be done in various ways and have different outcomes. These are described in this article.
Summary
The most common methods used are 1) regularly saving the changes locally while continuing to work on the layout, and 2) saving the changes back to Enterprise when all work is done.
1. Saving the changes locally
Saving your changes regularly is important and makes sure that no changes are lost should you encounter any problems. To save your changes locally, do one of the following:
Press Cmd+S (macOS) or Ctrl+S (Windows).
From the menu, choose File > Save.
Note: Saving your layout locally does not save it to Enterprise. It will only be saved to Enterprise if you use one of the other methods listed below.
2. Checking-in the layout and closing it
When finished working on the layout, it needs to be saved to Enterprise and closed. This process is referred to as 'checking-in' the layout and makes the layout available to other users for editing.
Step 1. From the menu, choose Smart Connection > Check In... .
The Check In dialog box appears.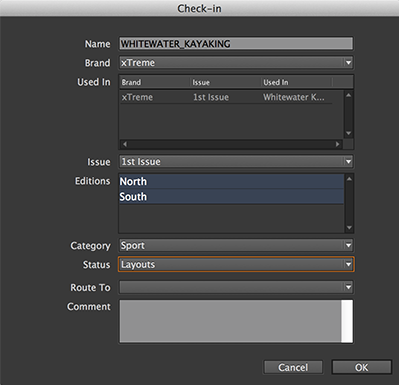 Note: When the layout is not yet saved to Enterprise, the Save As dialog box appears instead. See Creating a new layout or adding an existing layout using Smart Connection.
Step 2. (Optional) In the Name box, modify the layout name or leave the original name.
Note: See also: Using duplicate file names in Enterprise 10 and Invalid file name characters in Enterprise.
The settings for Brand, Issue, and Category cannot be changed.
Step 3. (Optional) Change any of the remaining properties.
Step 4. Click OK.
Additional methods
The following sections describe additional, less often used methods.